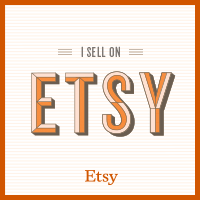 As someone who loves making, there comes a point when there is only so much home decor, gifts and 'for-the-fun-of-it' creations a person needs! So it became necessary to find another outlet for the things I love to make, which led to me opening my shop on Etsy.
I design and sell handmade gifts, inspired by the pretty things in life.  My aim is to make unique gifts that are sweet, personalised and a pleasure to give.
Visit my shop here, have a browse and keep visiting as I'm always adding new items.  And if there is something in particular that you'd like but can't see, 'request a custom order' and I'll do my best to meet your needs.